Asian Beauties Magazine
Shaved Orientails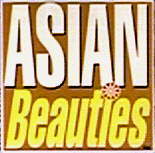 These are the real magazines: Asian Beauties and Shaved Orientails
You must be 21 years of age or older to access this Web Site. Misrepresenting your age in order to gain access to this site may be a violation of local, state and federal law. If you are not 21 years old, you must disconnect from our site.



---
PLEASE READ AND ELECTRONICALLY 'SIGN' THE FOLLOWING CERTIFICATION IN ORDER TO ACCESS THIS SITE.
I the undersigned, under penalties of perjury solemnly declare and affirm as follows:
I am an adult, being at least 21 years of age.
I am not accessing this material to use against the site operator or any person whomsoever in any conceivable manner.
I will not redistribute this material to anyone nor will I permit any minor to see this material, or any other person who might find such material personally offensive.
I subscribe to the principles of the First Amendment which holds that free adult Americans have the right to decide for themselves what they will read and view without governmental interference.
I believe that such material does not offend the standard of the community in which I live.
---

Below are links to companies that allow you to block what is being received at any individual computer. By using these types of services children and others have less chance of accidentally or deliberately being exposed to adult material.

| | |
| --- | --- |
| Bess: Internet retriever for kids | |
---